<- Back to all posts
NEARCON 2023: Get Tickets, Get Involved, Join the Hackathon!
NEAR Foundation
September 13, 2023
NEARCON 2023 "Step into the Open Web" may be a few months away but it's fast approaching. Since kicking off this year's edition of NEARCON, the NEAR Foundation has been hard at work building an iconic experience for the NEAR ecosystem and community.
This year, NEARCON has three venues, designed to optimize spaces for the hackathon and the talks and demos.  While we are still working out the details of the third venue, here are two confirmed venues:  
NEARCON HQ
Convento Do Beato
Alameda do Beato 40, 1950-042
Lisboa, Portugal
Hacker HQ
Armazem 16
R. Pereira Henriques nº1, 1950-242
Lisboa, Portugal
We've got some exciting updates on NEARCON tickets, speakers and sessions, the hackathon, and ways of getting involved in the conference.
Let's take a look at all of the latest from NEARCON.
To stay tuned for all of the latest updates over the next few months, join the official NEARCON 2023 Telegram channel, and drop into the spirit before the event.
What you get at NEARCON
Join 5,000+ delegates as the NEAR community explores the power and possibilities of an open web
Get inspired by talks from renowned authors, economists, artists, politicians, developers, entrepreneurs, and more
Explore the Blockchain Operating System (BOS), try it for yourself, and find out why it's the driving force behind an open web
Connect with projects, speakers, community members, builders, and multi-chain enthusiasts from around the world
Hack the days and nights away for a chance to build on the BOS and win $180k
Tickets info update
If you missed our early bird NEARCON 2023 tickets a few months ago, don't worry! While your chance at free tickets has passed, you can still receive a special prize.
If you refer 4 friends when you register for NEARCON, you will get a special prize at the conference. When your friends register for NEARCON, they must name you in the referral field. Friends can refer you all the way up to the first day of the conference. 
Stay tuned to the Near.org/blog and NEAR Protocol Twitter account for updates on the prize.
Speakers & Sessions
NEARCON will host a wide array of exciting speakers, including VCs, founders, developers, and many other notable ecosystem players. Here is a sneak peak at some of the 70+ confirmed speakers:
Michael Casey — CoinDesk
Samantha Bohbot — RockawayX
Nicolai Reinbold — CV Labs
Nathalie Oestmann — Outlier Ventures
Alexander Skidanov — NEAR Protocol
NEARCON Hackathon: Build a multi-chain, open web future.
Hackers know that NEAR and NEARCON love them. This year, any builder or developer who applies for the hackathon gets in for free.
The NEARCON hackathon is a 48-hour IRL hacking session for those looking to team up, familiarize themselves with NEAR, prototype their project, and pitch it — all for a chance to win.
The hackathon can be the start of something amazing — or a way to fail fast, learn, and adapt. We appreciate both, because we know that to build the next big thing you often have to fail enough times to find just the right idea.
If accepted to the hackathon, hackers will receive:
FREE access to NEARCON
24/7 access to hack at the venue
Hands on mentoring
Participation stipend in NEAR
Chances to win amazing prizes!
For consideration to hack and get a free NEARCON pass, please complete the application form. We're working on the full list of bounties, partners, and opportunities, so stay tuned to the NEARCON hackathon page.
Request a visa letter to support hackers' visa applications.
Get involved with NEARCON
Last year, a number of partners helped support NEARCON, including TAP Air Portugal, Business Insider, Circle, The Graph, and others. There are various ways of getting involved, from digital marketing exposure and exclusive access to side events to major visibility at the conferences.
Find what's right for you. Take a look at how you can get involved at NEARCON 2023. 
Step into the Open Web and register for NEARCON
Join the NEAR ecosystem and community and step into the open web. Let's build a new web together.
---
NEAR Foundation
September 26, 2023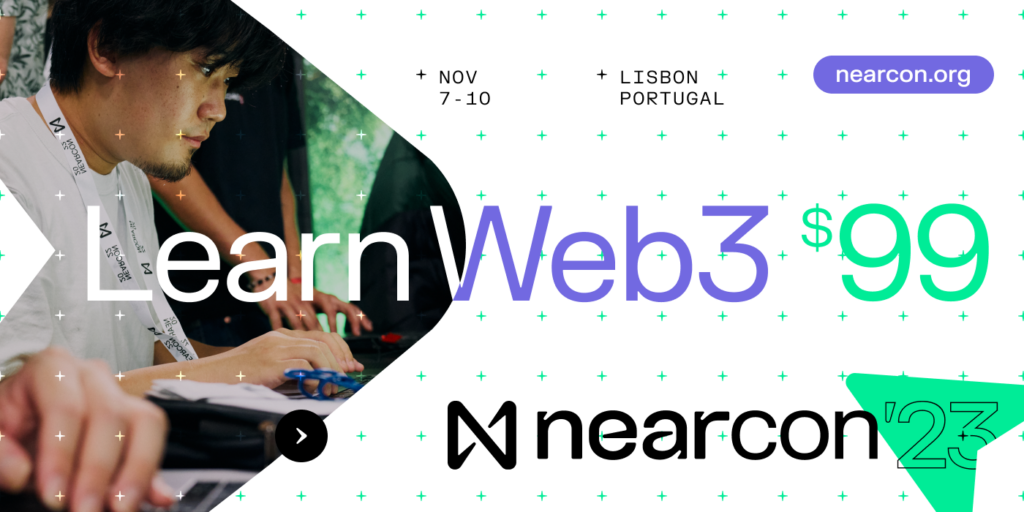 NEAR Foundation
September 22, 2023