Let's build an Open Web world.
A world where people control their assets, data, and power of governance.
NEAR is:
A Blockchain
The NEAR protocol is a sharded, proof-of-stake, layer-one blockchain that is simple to use, secure and scalable.
An Ecosystem
A vast number of applications, infrastructure and support built by an ever-expanding network of developers, entrepreneurs and creatives.
A Foundation
That exists to foster ecosystem development and innovation through grant funding.
Latest news from our blog
A brief history of NEAR
2017 – It started with AI
Illia Polosukhin and Alexander Skidanov started NEAR.ai to explore program synthesis proclaiming, "Singularity is NEAR!". They tried to pay contributors through Ethereum but quickly found out it was not fit for the job.
2018 – The vision was born
They decided to build their own blockchain – the NEAR protocol was born. This was the origin of the vision to give developers an easy path for building decentralized applications that could easily scale.
2019 – Foundation established
The NEAR Foundation was founded as a non-profit fostering NEAR's ecosystem growth and protocol development.
2020 – NEAR Mainnet launched
NEAR mainnet launched in April 2020, and became completely community-operated in September 2020. A vote to enable token transfers passed in October 2020.
2021 – First phase of sharding started
Sharding is the unique technology that enables the NEAR blockchain to scale effortlessly.
2022 – NEAR closed a $ 500m funding round
After two funding rounds in 2022, NEAR has a the means to support further the development of the protocol and growth of the ecosystem.
The founders
Since they founded NEAR in 2017, Alex and Illia have been the visionary minds driving the development of NEAR and its ecosystem.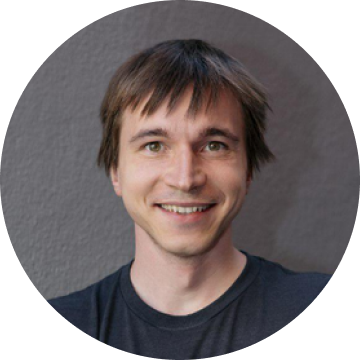 Alexander Skidanov
Alex started his career in 2009 at Microsoft, following winning a gold medal at ACM ICPC 2008. In 2011 Alex joined MemSQL (now SingleStore) as Engineer #1, where he was responsible for building many core features, including storage, sharding and durability.
Illia Polosukhin
Illia has more than 10 years of industry experience, including 3 years at Google where he was a major TensorFlow contributor and managed the team building question-answering capabilities for the core Google search, as well as an author of several notable research papers.
Start your web3 career in the NEAR ecosystem
Many projects as well as the Foundation have openings within various roles – check out the listing to find your place in web3!
Start learning
Learn about Web3 and NEAR
Start using
Understand why it matters